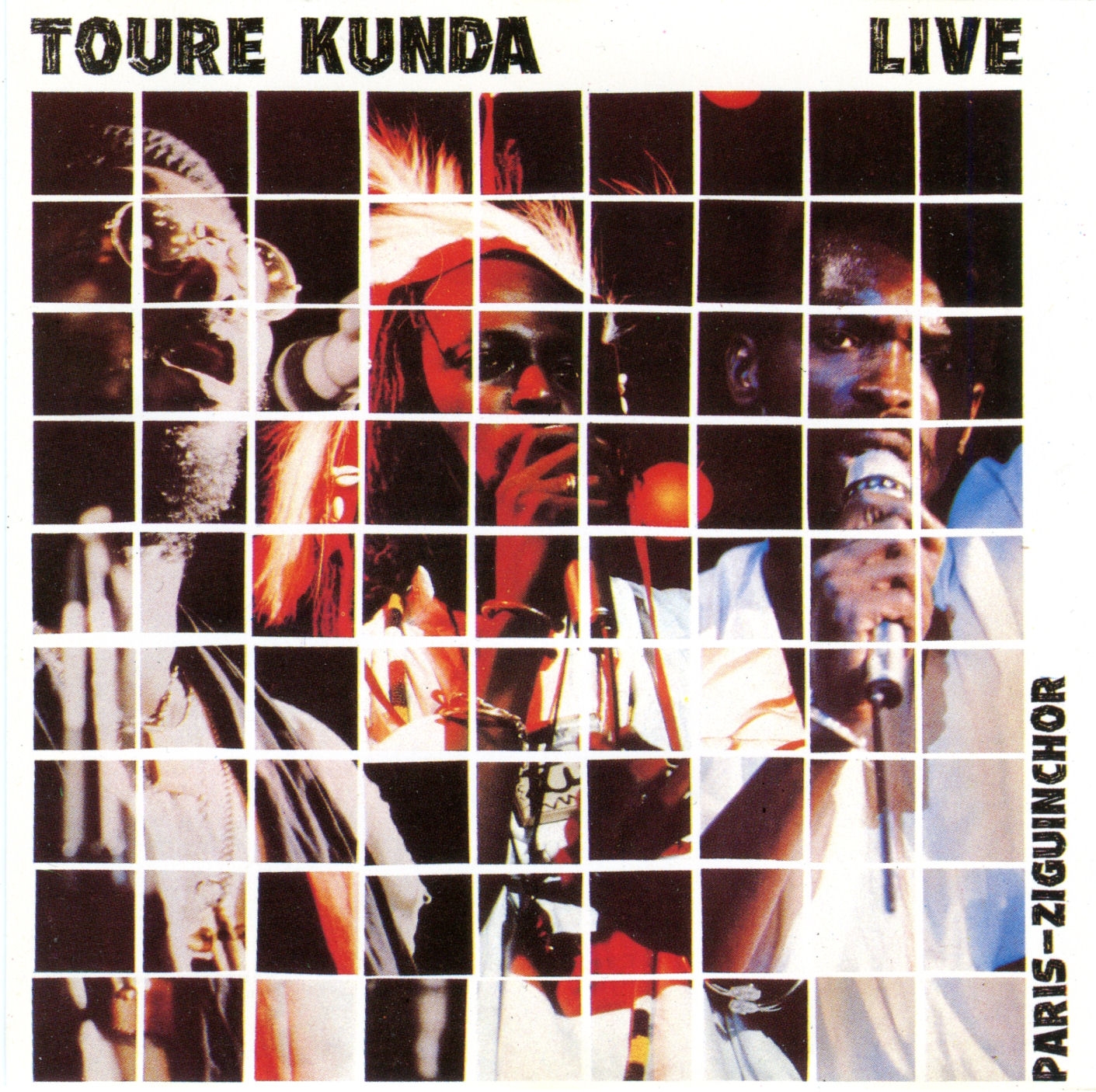 Touré Kunda:
Live Paris-Ziguinchor (1984)


The Early Years


Touré Kunda was originally formed in 1979 by the brothers Amadou Touré (born 1943), Ismaila Touré (born 1950), and Sixu Tidiane Touré (born 1950). Ousmane Touré (born 1955) joined the group a few years later. They were born to Soninké parents in the Casamance region of Senegal. The name Touré Kunda translates literally from the Soninké language as "elephant family". Their parents were Daby Touré (1875-1956), and his wives Mafili (Sixu Tidiane), Masse (Amadou Seckou and Ismaila), and Dionfolo (Ousmane).

The Touré brothers developed local renown as a singing and percussion group, playing music based on traditional Senegalese rhythms known as Djabadong. In the late 1970s, the three brothers moved to Paris and began experimenting musically. The basis of their music remained traditional African rhythms, enhanced with the incorporation of reggae and other influences. Acoustic performances centered on vocals, kora, balafon, and percussion, evolved over time to include electric instruments and synthesizers. The brothers expanded the group to include several musicians from France and elsewhere.


The Celluloid Years: 1980 - 1986


Touré Kunda released their first album in 1980, É'mma Africa, which included their signature hit "É'mma". This album initiated the band's relationship with the Celluloid label, which was to last until about 1986. A second release soon followed, Touré Kunda (1981), and the group performed regularly around Paris to support these albums. Tragically, Amadou collapsed on stage and subsequently died in January 1983. Touré Kunda carried on, though, bringing in brother Ousmane Touré (born 1955) and paying tribute to their former bandleader with their third album, Amadou Tilo (1983).

In 1984, the group successfully toured West Africa, including Mali, Cote d'Ivoire, and home country Senegal. Upon return, they recorded their fourth album Casamance Au Clair De Lune (1984). A film from the tour was shown on French television, leading to tours of France and the UK as well as the live double album, Live Paris-Ziguinchor (1984). In December, they joined Manu Dibango and several other African performers to record "Tam-Tam Pour L'Éthiopie", a famine relief benefit. The band's reputation rapidly grew to encompass an international audience.

Touré Kunda soon followed this remarkable success with their fifth album, Natalia (1985). With producer Bill Laswell at the helm and several major performers sitting in, the band incorporated a fully modern sound including synthesizers.


The Trema Years: 1986 - 1993


The Touré brothers left Celluloid to sign with Trema Music in France. The first album with Trema, Toubab Bi (1986), was also released on Celluloid the following year as Karadindi. With Trema in the early 1990s, Touré Kunda recorded two new albums, Salam (1990) and Sili Béto (1992), and a second live set, Sounké (1991). Although these were fine and critically acclaimed albums, the label released them only in France and provided little support.

Several members of the band moved on to form Kaoma, which soon found success with their major international hit "La Lambada" (1989).

A fifth Touré brother, Hamidou, joined the group for Salam and Sounké, though he and Ousmane both left before Sili Béto. Hamidou later released a successful solo album as Séta Touré, titled simply Africa (1994) and later as L'Album (1996).


The Present: 1994 - 2008


Touré Kunda, once again based on the original duo of Ismaila and Sixu Tidiane, signed with WEA and regained international exposure with the stunning Mouslaï in late 1996.

In 1999, the group initiated a flurry of high profile activities with the release of Légende, a set of newly recorded versions of songs from earlier albums. Santana released the hit album Supernatural, which includes "Africa Bamba", a cover of Touré Kunda's "Guerrilla" from Salam (1990). The Touré brothers followed up soon after with Terra Saabi (2000). In 2001, they contributed guest appearances to Macaco and Alpha Blondy, and launched the official Web site (www.toure-kunda.com) in April 2001.

Séta Touré continued his solo success with Douna (2000), and Ousmane Touré contributed a guest appearance to Tania Libertad's Costa Negra (2002).

In 2002, Ismaila and Sixu Touré announced that they would move back to Senegal after 25 years in Paris. They continued to become involved in various projects over the next several years, including several cassette releases of their own new material in Senegal, guest appearances with Simentera (2003) and Tatouages (2003), co-writing with Santana (2005), contributing to the collective protest "Attac Ta Dette - Afrique" (2003), and recording a soundtrack for a children's book (2003).

Touré Kunda returned in 2008 with Santhiaba, their first new set in eight years.


The Next Generation


Daby Touré, son of Séta Touré, joined with his cousin Omar Touré to form the group Touré Touré. Their debut album, Laddé (1999), found international success and yielded the hit "Yorro". Daby Touré moved on to pursue a solo career and achieved major successes on Peter Gabriel's Real World label with Diam (2004) and Stereo Spirit (2007).

Mamadou Touré, son of Ousmane Touré, has been active in several groups based in Dakar and London, and recorded with Dakar-based Melokaan.

--- Stephen Smith, from The Touré Kunda Discography (http://toure-kunda.neocities.org)


Links


Touré Kunda - Facebook (artist website)
Touré Kunda (artist website) (currently inactive)
Kassoumay (French)
RFI Musique - Biography 7/2008 (French)
RFI Musique - Article 4/1/2008 (French)
RFI Musique - Article 9/12/2000 (French)
Afromix - "Africa Panorama" article (French)